Or maybe that title should be cleaning my way into Spring?
Spring while you clean?
Kinda like whistle while you work?
Like it might be more fun cleaning 4 seasons worth of outer clothing if you could just whistle a happy song.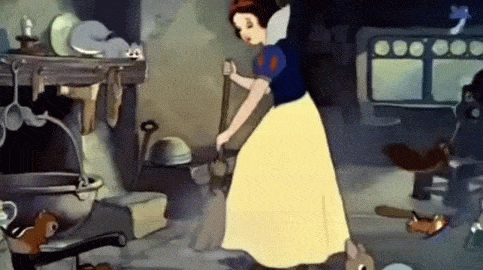 Maybe once all the little forest creatures show up, I'll don my best ball gown and get right to that dusting. Because I am pretty sure my garage is exactly that dirty.
I refuse to even show you a picture. It's really THAT bad.
No one wants to see that.
Thus, today, is laundry. All the winter gear has to be taken from the hallway closet, to the washing machine, and then once cleaned, stored away for next year. That doesn't sound too awful right?
Until I remind you that it's the winter outer gear of 5 people. Yikes - Hydro bill gonna peak today!
I really want to get to the outside, but I feel like this is the first step that has to be made. Today is still a bit chilly, and it looks like an April Shower is on it's way too. So, indoors is not a bad thing.
Also, as this Friday is Earth Day, tonight my Girl Guide troop and another will do a hike to the park to pick up some litter. So that will be my part for cleaning up the Great Outdoors for Spring.
I'm keeping it short and sweet today because while I was arranging my back deck this weekend to get some fresh air time, I picked up a broken candle holder and now have several cuts on my fingers --- which is making it rather painful to type today. I'm wincing each time I hit the keys for this post alone.
And you thought I just self mutilated with hot glue guns.
I'm really very talented.
If anyone has any great garage cleaning and organization tips -- feel free to leave a comment, or write your post and link up! I'm off to catch on some blog reading since I can't type very well.
Comment love might be a bit short today dear readers.
If you should find a random "ouch!" comment on your blog today; you know I was there.
Tuesday, April 19th, 2016
What do you do to prepare for the new Season?
Next Week: It's a Random Chat. Pick a topic, let loose a rant, explain American politics to me... whatever your mind needs to release.