Sorry that I am late to my own chat party!
Well, technically, I am not late; because it is still Monday; and this is the
Tuesday
Coffee Chat. However, since I have been posting early on Monday nights for you lately... well, I'm late!
Even though it's still Monday.
The Internet is weird.
The reason for my sorta tardiness is because it's Left Brain's birthday.
And Sparks night.
Also, jujitsu.
Still doing my 21 day Fit Challenge!
And, my parents arrive back in town from visiting my brother and his family out west and we had planned to pick them up at the airport just after midnight.
Because Monday is the day to do All The Things!!
*Sigh*
I may need to let something go.
It is the Season after all.
No, this is not where I confess that I have given up drinking coffee for Lent.
Are you cray cray? Why would you do that to other people. Don't make me do that.
I drink coffee so that I can like people in the morning. And after.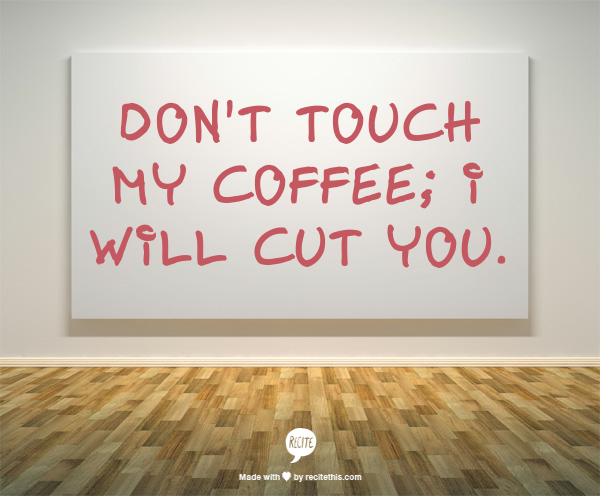 Sorry, that is a bit harsh. I didn't mean that, but it's just I have given up sugar though. Due to the 21 Day Fix Challenge.
Did I mention "Birthday" already? Which of course means cake.
I had 4 bites.
You are sworn to secrecy! Remember, a Detective lives here and I will find out who snitched!
I figured it is enough that I am choking down my morning java with Stevia. It's not bad. I can tolerate it for 21 Days; but I'll be taking my two lumps back thank you very much. I'd seriously rather give up cake for life, than mess with my morning brew.
I've also given up a lot of carbs - the bad ones so to speak; and my daily intake is very low. Less than a cup!! If I have a sandwich, that's it! No Carbs for you for rest of the day! So I'll have to pass on all that leftover pizza in the fridge too. Also, the Nutella stuffed croissants on the counter.
I didn't pass up two beer at my friends birthday party though. I figured I would do enough dancing to work those off. And the bartender looked like Captain America. Not sorry!
I think it will be harder to recover from the late night of dancing, than any diet cheat.
Holy crap - I took a nap today.
Naps are dangerous!! You never know when you will wake up. 5 minutes? 20 minutes? And hour? A decade? It's so risky.
To be honest, I did not enter this fitness challenge for Lent specifically. It just coincided at the same time. The group doing the challenge with me, is also studying a Devotional for the month too, so we are getting Spiritually Fed; so to speak.
And the best part is having a really great support network that will tell you to back away from the snack cupboard at 9 pm. But also tells you no worries when you confess you ate a few potato chips at the birthday party.
Just Don't Give Up! It's a Brand New Day!
I doubled down on my workouts today for good measure. Basically, I just wanted to prove to myself I could do this challenge. To take my fitness routine to a new level. To eradicate any lingering attachments to food that were not based on a healthy mindset. I am pretty good about not doing "emotional eating," or when I am just bored. But portion sizes can creep up sometimes, and this has been a good reminder.
I'm not starving every day, but I still think I would not keep a diet so restrictive for a long term.
But - I will stick with the challenge and see where I am at at the end.
And the devotional is giving me some great insight as to how we use food as a replacement for other things.
So I am learning more, while also losing more.. so that I ultimately don't lose more of myself!
Dieting is weird also.
P.S.
I know I am way behind on comment replies and blog visits. Apparently I also gave up WIFI over the weekend while visiting my friend. I promise to get a big cup of my sugarless coffee soon and get busy!!
Tuesday, February 23rd, 2016
Give it Up? We are in the Season of Lent:
do you give anything up? Do you observe Lent?
Next Week: How are you? Honesty required.