Good morning and welcome to Coffee Chat!
There is a new crisp, chill to the air, and after spending an entire day last week being all photo ninja-ish amongst the Fall foliage; I am actually okay now with saying Goodbye Summer.
Still not mentioning that S-word.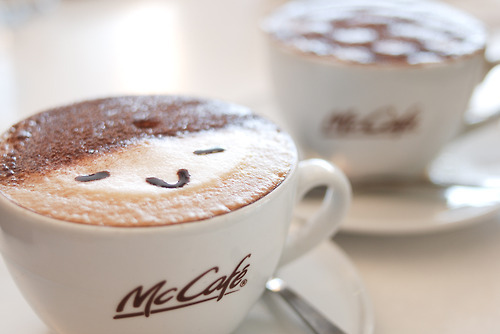 I am sitting in a McDonald's cozy cafe as I write this post. Pumpkin spice in my cup.
Although, there is no cute happy face adorning my whip cream.
I plan to write a strongly worded letter.
Actually, I have no whip cream. Since I am eating a cookie. And I prefer real whip cream.
Again, drafting a letter in my head.
This is something I rarely do. Alone. Since I have a perfectly good coffee machine at home, and a perfectly good table. Or comfy couch. However, in keeping with this week's chat theme; I thought I should do something I often imagine doing -- but never actually make happen.
There are other people typing away on their laptops here.
I think I've found my people.
Tuesday, October 6th/15
Tell us about something you have never done,
but would like to do now.
What was holding you back?
Also, there is French here. As le language.
I am very close to the Quebec border in my hometown, and we have quite a large Francophone (official Canadian term) residing here. Although, basically all of us parlez le language.
Don't repeat that to a French person. That's not exactly Proper French.
Thus I am pretending I am actually on a Parisian Cafe sipping a latte and having intellectual conversation.
Fine, it's wine in my version, but still.... Le Talk!
Or maybe I am people watching. Or reading romantic poetry. Perhaps sketching one of the beautiful scenes before me. Something. Anything.
That's not
here.
Wanderlust. That's my temptation. I've always wanted to travel. To seek adventure.
Foolish me thought that might calm down a bit when I committed to the domestic keep, but no; it's still there. Just bubbling under the surface.
Don't get me wrong!
Of course I love my home and family. I will not ever regret the decision I made.
But....still it lingers.
That urge to roam. To run free. To taste the experience of another world. Another life.
Even though, yes I know, deep down, I don't have to travel beyond my own backyard to find contentment.
I used to dream and imagine of white water rafting adventures. African safaris. Surfing in Cali. Exploring the Australian Outback on horseback. Climbing mountains. (ok, the small ones tho right?). Pina coladas on tropical beaches.
And I was on my way!! Once upon a time. I climbed Whistler Mountain. I baked myself red on exotic beaches, explored Mayan ruins, Jamaican jerk chicken places, and Cuban homes. Dipped in my toes in several different oceans. Climbed lighthouses. I danced in clubs I probably should not have been in. Sampled too much rum. Heck, I even smoked a cigar. (not recommended unless it's the
really really
good ones.)
The only thing that held me back was money and sufficient vacation time.
But I managed at least one trip per year.
Then the dream changed. And that's okay.
Money is still an issue. Unless someone feels the urge to sponsor my trek to Base Camp. Anyone? Hello?
Time, an even bigger factor.
But still I dream. And the dream has changed too.
It's not enough to simply want to explore. To find adventure. To immerse oneself in another time and place. Now -- I want to make a difference. I want to be a helper in those places where it seems no one cares. No one SEES. The places the world thinks God has forgotten. Abandoned. I want to show them that there are still those who seek goodness and peace.
The Jamaicans crowded in shacks in the ditches of lane ways leading to the mansions of the rich. Wealthy people who reside in that luxury maybe once or twice a year. While the people who clean it live in their ditches. Who will see them?
African children playing soccer in dirty bare feet and empty bellies. While some rich business man pays a fortune to have the head of a precious animal upon his man-cave wall back home, so he can brag and click beers with his Bros. Who will feed those children? Clothe them?
Those are the places that have been calling to me of late. Filling my mind... but mostly they are lodged in my heart. It no longer feels like "trip" is enough; now, it's a
Mission.
Again, time and money would hold me back. Well, and possibly a willing and very patient babysitter. Thus, neither kind of journey seems to be a possibility for me right now. But I feel the call. That old wanderlust mixed with something new. Something deeper.
Maybe there is a bit of fear too.
Because Me?? What could I do?
So, perhaps my own backyard will never be quite enough to satisfy that restless urge within me. But the real difference in me, is that now I know it's not just my own backyard. It's the whole world - it's all of us.
We are all connected.
Perhaps I can find no peace in my own space now, because I hear the global groanings.
There's something blowing in the wind. A change is gonna come. I could watch from my safe and comfy distance.
I could write a nice letter.
But I rather think this is one of those times in life, when action speaks louder than words.
So what is holding me back?
I don't know. I guess I am waiting for sign. An open door.
But there is one thing I am fairly certain is true: when such a call comes upon your heart... that knock knock knock of "
you are more than this
"..... opportunity is not often far behind.
Would you be ready?
NEXT WEEK - How have you changed in the last year?