This Monday is sure to find me rocking and rolling!!
And not just because we had a nice Father's Day -- which was basically a day of doing nothing much and all. Left Brain and Monkey Boy had a bike ride together, while the girls and I chased butterflies and sucked clover leafs in the field.
*
that last bit only sounds strange if you don't live in the country
*
That's about as strenuous as the day got.
Although, since all the food I bought was "grillin eats"; Left Brain did all the cooking.
On Father's Day.
I do know have a knack for restful holidays.... I don't mind saying.
I'm (XmasDolly) the Conductor on this Musical trip. Co-Conductors are my buds Callie of JAmerican Spice, Stacy of Stacy Uncorked,
Cathy of Curious as a Cathy, Naila Moon of Just the Stuff You Know! Curious as a Cathy is taking a hiatus & I was going to tell you that our Becca (Honorary Co-Conductor) was going to cover for her for the month, but ANNOUNCING BECCA - OUR NEW CO-CONDUCTOR ON OUR MUSIC LOVE TRAIN! APPLAUSE! NOW LET'S ROCK THIS PLACE & get this TRAIN rollin'!
This week's THEME is "ROCK AND ROLL LEGENDS"!
Why not start off with the "Godmother of Rock and Roll?"
Oh my goodness, I could listen to Sister Rosetta All Day!
An era I definitely would have loved to experience ... based on the music alone.
And the poetic lyrics of one man in particular....
....basically, I would have freaked my freak to ever meet the Lizard King himself: Jim Morrison.
And the driving, starting beat of this song.... Oh.My.Gawd.
Turn up that bass baby.
Yes, visiting his grave in Paris would be on my bucket list.
(this is the old one pictured here -- it was defaced by fans and Morrison now has a more proper resting place safely behind gates. I suspect that would piss him off.)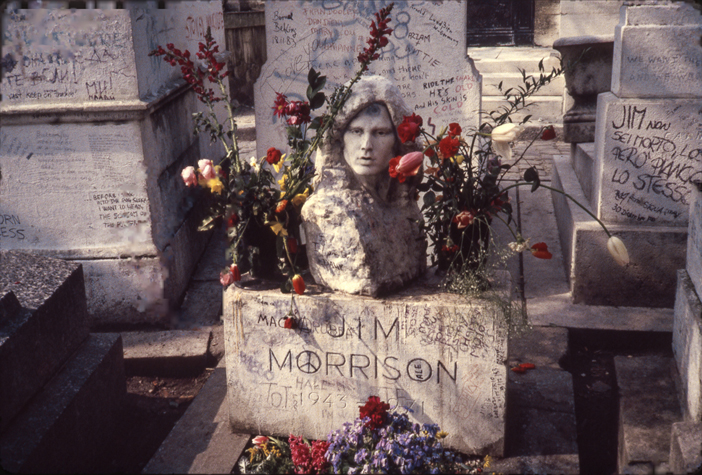 But nobody revolutionized the world better than these Fab Four men from Liverpool.
It actually boggles my mind that John Lennon was only 40 when he was murdered -- younger than I am now. Such talent; wasted.
I was 9 years old and already very familiar with their music.
But they were gone before I barely had a chance to say "hello."
There are so many more great musical legends.
I wish I could sit many young music lovers of today down and make them listen to the some great blues, jazz and reggae. Some buckwheat zydeco on the bayou.
I bet young whippersnappers don't even know what that means.
I'm not saying I am not a fan of today's music.... I just hate to see the stuff of legends slip away and be lost.
You never know when you might not be able to get out of somewhere; without singing the blues.
About The Author
Leslie Botchar, aka "RoryBore", is a SAHM enjoying life one day - and one cup of coffee - at at time.
She has had several articles published in
The Huffington Post
, and hopes to one day marry her skills as Word Wrangler and Photo Ninja. Leslie spills it all on her blog
Time Out For Mom
, and invites you to join her for some Mom "Me" Time.
Connect with her:
Twitter
,
Facebook
, or
Instagram
.