I knew it was only a matter of time once the sound of sniffles and coughs could be heard from the kid's bedrooms....
....that it would eventually find it's way to mine.
And it was really creepy when it all happened because as some of you may know -- the Zombie Apocalypse has been interrupted by some mysterious illness that is taking down survivors faster than a starved zombie leaping on that guy you didn't like anyway and tripped as you were running full tilt for the prison yard.
So as the coughing increased on
The Walking Dead
- same story in my own house. Very weird.
No worries -- you know I got this. Just gotta do a quick run for some meds.
Don't worry - I'm not going all
Carol
on them or anything...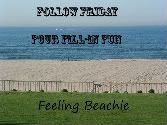 Each week, I plan on listing four statements with a blank for you to fill in on your own blogs. If you want to join the fun and come up with four fill in's of your own, please email them to me
.
If I use them, I will add you as co-host to the hop!
This week's co-host is William from Speak of the Devil! He came up with the last two statements!
I would LOVE it if you could please help me spread the word about this hop…. So, please tweet, FaceBook share, and add the linky to your post…
This week's statements:
1) I can't believe that
I actually bought 2 Christmas presents already!!
That is way ahead of the game for me. And I helped my mom get some for the kids when she was visiting last week too.
I figured I might as well.....since they had the festive decorations up in stores before Halloween was even over. Hurry much? *eyeroll*
2) To celebrate
a holiday
I
usually wait for the current one to be done
. Call me crazy, but I just like to stretch them out like that.
3) The meaning of life is
never hurry, never worry
. Or wait, maybe it was
keep your eye on the ball
?
No....no...
one day at a time
. that was it. Which oddly, makes me want to have a drink.
4) I can't stand
being rushed
. Into anything. But especially holidays.
Unless of course there is a really good deal....then you should rush right there before it's too late.
To celebrate her 40th birthday, Hilary is putting her awesome book,
Dangled Carat on sale for $0.99!!!
(click the image at left to get yours from Amazon --- Right Now!)
Have a great weekend everyone, and I hope the sniffles don't find you!