I got it! I got it!
Okay, so it wasn't THE HOLY GRAIL of Pumpkin Spice.....but I also still got change from a fiver, so yeah....
I'm Lovin' It
.
And with change left over, well I can just drive on over to
Tim Horton's
because:
Pumpkin, pumpkin everywhere!!
What else? Gimme gimme gimme
Yes, Yes, YES!!
I'll try them all!
It's a good thing I am all excited and pumped up on pumpkin infused caffeine, because I got co-hosting duties today!!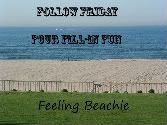 Each week,
Hilary
lists four statements with a blank for you to fill in on your own blogs.
If you want to join the fun and come up with four fill in's of your own, please email:
This week's co-host is LESLIE FROM
TIME OUT FOR MOM
(me!) she came up with the last two statements!
I REALLY, REALLY, REALLY NEED SOME STATEMENTS!
Spread the word about this hop….
tweet,
FaceBook share
, and
add the linky
to your post.
1) The best part of the day is when the kids all come off the bus and run towards me crying "mommy! mommy!"
Being at home with them all the time, I didn't get to have those kinds of moments.

2) The first thing I do in the AM is make hot chocolate for the kids, and coffee for me. It's a nice little morning ritual I started with my firstborn. It makes for a nice easy start to the day.

3) If I hear one more thing about Disney Princesses, or Barbie or Bratz being a bad influence on my daughters, I'm going to stab my own ears with a fork.
I don't worry about this because my daughters have many examples of strong, smart, confident and frickin cool women in their real life. These are the woman I talk about, go to for advice, lean on for support: this is what they will grow up seeing in action. This is what will be raised up.
The other stuff? It's just play. And those stories? They aren't real. Even my 3 year old gets that.
4) Tomorrow morning I am going to grab me a spice latte and then go do some Aquafit.
Because regular coffee and just Zumba makes Rory a dull girl.