It's Friday!!
And this week, it really means something.
Left Brain has been working all week, so I've had morning and night duty on the home-front.
Don't worry.....I've made it easy on him: Movie Pizza Night!
In other news, I am almost caught up on all seasons of
Breaking Bad
.
That's 5 seasons worth of TV viewing.
So clearly, I have been using my time wisely.
Told ya I really needed a break.
Bad.
See what I did there?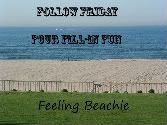 Each week, Hilary lists four statements with a blank for you to fill in on your own blogs. If you want to join the fun and come up with four fill in's of your own, email them to her
.
This week's co-host is Lisa from
Lisa Writes
(and she is also the author of
Quake
) – she came up with the last two statements!
Spread the word...
tweet,
FaceBook share
, and
add the linky
to your post.
(And Hilary could really use some statements!)
This week's statements:
1) I have had the
most frustrating
time this
week dealing with a situation at my sons school that is dangerously close to bullying.
How did it turn out?
Oh....they got the horns. I am a Taurus afterall.
2) I can't believe that
I will soon have a 9 year old child......who feels he still doesn't have enough Lego.
3) I feel
beachie
when I wear
my flip flops
.
Yes, still.
Yes, in Canada.
4) Technology is a
.....well, currently I am trying to get my sons' birthday invites to print, and my computer is just sitting there "oh...me? did you want me to print that?.....now?"; so I'm gonna have to go with Pain In the Ass at this moment.
Check back in ...oh.....3 kicks, a punch and about a hour from now. Hopefully I will have a different answer.
And hey! Did you know our lovely hostess Hilary published a book!
For realz.
It's a great love story - you can see how much I loved it
in my review here.
(click on the image of
Dangled Carat
over there in my sidebar to see where you can purchase.)
Have a good weekend everyone.