Well the "
momcation
" is nearly over.
I've been good and lazy since school started.
The equivalent of all the 2 weeks vacations that I have not really had in 10 years.
But next week, it's time to get some things done around here.
Time to start up Rory's Coffee Chat......stay tuned for that.
Next week.
I am milking this last day for all it is worth.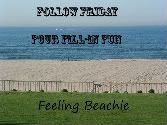 Each week,
Hilary
lists four statements with a blank for you to fill in on your own blogs. If you want to join the fun and come up with four fill in's of your own, please email them to me
.
This week's co-host is Pam from
Tropppetrie
– she came up with the last two statements!
Hilary REALLY, REALLY, REALLY NEEDS SOME STATEMENTS!
Spread the word about this hop….
tweet,
FaceBook share
, and
add the linky
to your post.
This week's statements:
1)
Quiet mornings
are the
perfect
time to
enjoy that hot second cup of coffee
.
After you have jumped out of bed because you
just heard
the school bus come around the street corner. Whoops.
And Happy Friday the 13th -- hubby took the van to work this morning.
Because of course.
2) No matter how hard I try I still can't
seem to get to bed before midnight. I think I have momsominia.
It's a legit term. I'm not just making up words in my over-tired yet, somehow adrenaline fueled state. Although, that probably would be a better use of my time than catching up on 4 seasons of
Breaking Bad
.
3) When I was young I thought turning 30 meant
The Party Is Over
but now I know it means....
.no, no....I was right. It's over.
To be clear - that is by choice.
I could still totally stay up all night and party; if I wanted to.
Just don't count on me for a ride anywhere the next day.
4) I love to cook
lasagna
for dinner. When I am in a hurry, my go to meal is......
a phone call away
.
That's what I call
momtelligence
.
Totally a word.