This is it.
It's all over after this weekend.
Holidays that is.
This is the last long weekend of summer in Canada.
I've already unburied the snow shovel from under the bikes. *snort*
Hey, ya never know.
I'm still coming down from my previous weekend getaway.
Although,
Reedusitus
is very hard to recover from.
(kinda like the itch you can't scratch, ya know? ahem.)
There's no denying it. I have got the post Con Crash. It's worse than a hangover.
Totally going again next year.
Hey -- did you know, life moves really fast when you don't have to wait in line!!
Amazing.
As exciting as it all was in the big TDot.....I do much prefer the slower pace. Getting up early to go stand in line to see something I already paid for.....meh.
I am more of a up late at night, sleep late in the day kinda girl.
Oh my.....I
am
totally a Rock Star!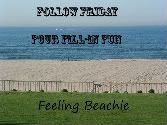 Each week,
Hilary
lists four statements with a blank for you to fill in on your own blogs. If you want to join the fun and come up with four fill in's of your own, please email them to me
.
This week's co-host is Susi from
Boca Frau
– she came up with the last two statements!
I REALLY, REALLY, REALLY NEED SOME STATEMENTS!
Spread the word:
tweet,
FaceBook share
, and
add the linky
to your post.
This week's statements:
1) I love to
take walks around my neighbourhood and down by the river.
Starting next week, with all the kids in school, I will be able to do this more often.
Also, I love dogs. Just throwing that out there *cough, cough* Left Brain.
2) When I
am reading a good book,
I am
completely lost in that world.
Which is why I never read a book when my children are present. Maybe that's why men read in the bathroom???
3) I love to listen to
raindrops on the roof
because it makes me feel
mellow and relaxed and....glad I am not in a tent.
4) I never thought I would
still be at home with kids
after
spending most of my teen and adult life in the work force.
I also never though I would have enjoyed it so much either.
Broken roads people. Sometimes they lead straight to where you are supposed to be.
Although, with all kids being in school as of next week.....I do believe this SAHM is now at The Crossroads. More time for mom is on the horizon; and what shall I do?
I just love the road that has no end in sight.
It may look like the journey is long, or never-ending; but - so are the possibilities.