This weekend marks another long weekend Holiday in Canada.
It also marks the 65th reunion meeting of my family.
Yes, there has been an annual family reunion at the same family cottage on a beautiful lake That Long.
Clearly, I have not been in attendance at all of them.
Besides being right in the glorious heart of what we call "cottage country", I can't wait to get there and see everyone. Most of us are spread out around the province, country....and some the world; so this is the only chance we get to see certain people.
So here's to hoping the sun is shining (it's all outdoors, all day), the water is warm, the pig is roasted and I don't forget to turn the van lights off this time so we have a charged battery when it's time to
leave.
Although, why would we ever want to leave a place like this: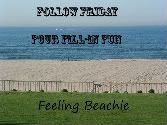 Each week, Hilary lists four statements with a blank for you to fill in on your own blogs. If you want to join the fun and come up with four fill in's of your own, please email them to me
.
This week's co-host is Tami from
Empty Nest in IL–
she came up with the last two statements!
Spread the word about this hop….
tweet,
FaceBook share
, and
add the linky
to your post.
This week's statements:
1. Sometimes
I get this overwhelming restless feeling welling up inside, and I wish I could just disappear for a few days and do something outrageously fun. even stupid.
You'd all bail me out if necessary, right?
2. Time
flies
but
also lingers
, or are we
just too busy with "now" to notice that, like a river slowly creeping over stone, it has carved out our past and smooths the way for our future?
3. My favorite meal to cook is
handing the steaks to Left Brain to grill
, because
he is an awesome Grill Master.
4. When it comes to social networking, I log on
to email first. I get notifications from every single social media account of any activity, and I can see them all in one place instead of opening each separate app.
And having more than 100 emails in my To Read folder makes me antsy.
Although, it is also a nice problem to have too because it means people are reading and interacting with me.
So thank you for that.
I am off to enjoy a mama's solo day at the beach.
It's just too beautiful round here y'all.
If you feel the same way and want to come join me each summer, you can have your very own cottage nearby.

FOR SALE
Seriously y'all --- it's a STEAL at half a million dollars.