Left Brain has just started a string of 5 straight night shifts.
After having already been on his night shift rotation last weekend and earlier this week.
Which of us will be more exhausted and out of our mind by the end of this weekend?
Place your bets!!
Better write it down....I'm not likely to remember this post.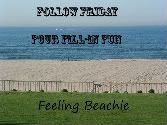 Each week
Hilary
lists four statements with a blank for you to fill in on your own blogs.
This week's co-host is Susi from
Boca Frau
– she came up with the last two statements!
Spread the word............ tweet, FaceBook share, and add the linky to your post.
This week's statements:
1. Lately I have been
feeling restless and cooped up
and it is driving me crazy.
And um no, just no.
Trips to the grocery store or taking all 3 kids to the beach do not count as "getting out of the house."
Any questions?
Refer to Blog Title.
2. I sometimes have a
glass of wine in the tub.....because, duh.....wine.
3 .My favorite type of music
is almost anything - honestly
because
it just sweeps away the dust of life. Ya know.
No Minions....Fisher Price,
Call Me Maybe
and anything Bieber are the exceptions to above.
4. I'm always amazed by how much
a mess of my house
my
children
can make.
Actually, it's not so much HOW much of a mess, but how FAST the mess can occur.
Literally....blink.
And it's like Twister Redux in my living room.
And I assure you, with even more noise than the original.
This might explain that cooped up feeling referenced in #1.
Praying for the storms to pass and a sunny day out for mom on the horizon.
P.S. Speaking of Minions; if you are looking for a nice escape from either a heat wave, or daily thunderstorms that alter humidity One Bit: I highly recommend
Despicable Me 2
. The kids loved it, Left Brain and I laughed......and the true test - 3 year old ZooZoo actually
sat
.
No, no...."quiet" is not missing by accident.
Now......let's get
sweeping
happy!