I left the house!!!
And came back.
And not a grocery bag followed me back!!
This is big folks.
I actually returned with 2 magazines and a new writing journal for myself.
I bought the kids - nothing!!
(well, I bought them shampoo and toothpaste, but that's it! nothing fun.)
I am finding it hard to get any serious writing done because my laptop is not as portable as I thought.
Beach?
um, no. I have enough sand throughout my car and home.
My computer is the last place I want to find those meddlesome grains.
Park?
Push me mommy - push me!!!
Mama - I have to pee.
I'm hungry.....where's the snacks? Did you bring snacks? I need a snack....
By the time I get everyone back from the washroom - located conveniently at the opposite end of the park from the playground and picnic tables - give a few pushes, and set out the snack, I will find:
"
Warning: you have 12% battery remaining
"
Darn this 17 inch HD screen!
(although, yes - great for movie viewing.)
So I am going back to the dark ages and actually have sharpened pencil and a notebook to jot my ponderings and prose within.
It really is the little things that can brighten a tired mom's day.
Since her computer screen will fade to black before she ever gets a single word typed.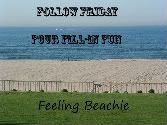 Each week,
Hilary
lists four statements with a blank for you to fill in on your own blogs. If you want to join the fun and come up with four fill in's of your own, please email them to her at
.
This week's co-host is Mr. Uttley from
Uttley's Take
– he came up with the last two statements!
Spread the word about this hop….
tweet,
FaceBook share
, and
add the linky
to your post…
This week's statements:
1. I don't have a lot of
spare/me/alone time.
It's getting weary. Is it really too much, or too selfish to ask that I could have some time to read, exercise and maybe watch a show each day?
I mean, before 9 pm?
2. When it is a
beautiful sunny day
I hate when (it)
the kids whine about having to go outside.
Seriously? Are you Not the same kids who also whined about being stuck in school all day and couldn't wait for summer?
Your moods. I don't get them.
3. When I was little, my dream job was
cowgirl. I already had the horse and couldn't understand why it didn't happen.
4. I could write a book about
finding Lost Things
. It's a mom's other full time job. Tune in tomorrow and I'll explain.
Anyone else tired of dragging their kids around on summer adventures, and just want a day at the beach alone?
Please tell me I'm not the only one.