Even though I wrote a "
say your peace
" post, I'm still feeling a little raw and exposed right now.
Which is kind of my point to you "tsk tskers" out there who feel it's your duty or responsibility to call others out on their imperfections, bad behaviour, and/or sins. You don't normally improve the situation. Your "victim" usually ends up just feeling bad about themselves.
And that, in my experience, is not a good motivator for change.
In fact, it can often make the situation worse. Perpetuate a downward spiral.
Plus, I am not really sure what your intent is --- not being an actual expert yourself. Nor blameless.
And that just leaves me confused as to how I should view you now. Or rather, how you view me.
I do know the last thing I need, is to proceed forward in life constantly wondering if I am being watched intently and judged. Looking over my shoulder for the next blindside bitch slap. Constantly questioning my abilities; especially regarding parenting.
If your goal was to make me a better parent --- leaving me feeling insecure about my ability to parent is probably not the best strategy. I really don't think I'd serve my children well as an unsure, insecure mother.
But one who felt supported, understood......loved, despite her shortcomings.
Yeah....bet that goes a long way towards building better parents......and friendships.
Oh, and you Christians who especially feel that it is your God appointed duty to "lovingly" set a wayward believer back on the straight and narrow???
I bet your pews would be less empty if you could just cut everyone who is not the very model of Jesus Christ, a little slack. I do believe He warned about throwing stones.....
How about a little room to breath?
m'kay?
I promise: if one day you find me in the gutter, having abandoned my home and children, strung out on alcohol or drugs.....or Oreo's, and licking a poster of Norman Reedus' face ----- Okay fine. Then I will let you drag my sorry ass back on home.
Until then:
Hakuna Matata
bitches.
It means mind your own damn business - and there will be no worries.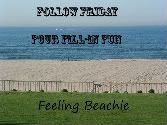 Each week,
Hilary
lists four statements with a blank for you to fill in on your own blogs. If you want to join the fun and come up with four fill in's of your own, please email them to her
.
If I use them, I will add you as co-host to the hop! This week's co-host is
Donella from My Constant Thought
– she came up with the last two statements!
Spread the word about this hop….
tweet,
FaceBook share
, and
add the linky
to your post.
This week's statements:
1. I never
used to be bothered by what people think. Motherhood really can change you.
2.
Finding time to take care of me and do things I enjoy
is hard for me. Lately I don't feel like I live a normal life.
3. My favorite place is
Cuba
to vacation in the
winter
because
I love the culture, the people, the country......it's a completely different feel than other Caribbean destinations I have visited. And the rum is really good. I hear.
*side-eye*
Cuban resort Left Brain and I got engaged at!
4. The best concert I've seen was
U2
in
Syracuse
because
they are truly incredible live. And The Edge is just so ultra cool.
Have a good weekend.
Hopefully we will return to our regular scheduled funny posts again soon.
Thank you to all who have left wonderfully encouraging and supportive comments.