Today. Thursday.
Last.Day.of.School
You know...... I've really enjoyed writing in this here little blog of mine.
Okay, I'll be more positive.
I am sure we will have a grand summer together.
It will be so -- because it is probably my last summer with my kids as a SAHM.
Pretty soon we will all adjust to our easy-breezy summer schedule.
I just need to get into the
swing
of things.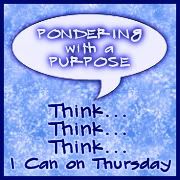 The rules are really easy:
1. Grab the Pondering with a Purpose Badge (in my sidebar)
2. Look at the week's prompt
3. Post something on your blog that relates to the prompt - it can be a story, a poem, a picture -- anything you want it to be.
4. Come back here and add the URL from your post to the linky list below.
5. Go check out the other bloggers who have added their links to the list.
6. AND most of all.... Have fun!
When I was a child, I had this book of poems by Robert Louis Stevenson called, "A Child's Garden of Verses."
I loved that book.
I read it over, and over and over again. And I am certain it is the reason for my love of poetry.
That book now has new home in my children's home library.
When I saw today's prompt, the first thing I thought of was a poem from that book:
We used to swing on a rope in my grandparents barn hayloft. Many fun adventures and mishaps filled those summer days.
There was also a rope swing at the cottage.......this when ending in a cool dip (rather than a manure pile, or worse....the bull pen.)
And of course, my days now are normally filled with the repeated cries of "Push me mommy! Higher, higher! Push me again!"
Some may think potty training, shoe lace tying, or loading the dishwasher are great milestones for children to reach........for me, it is that glorious day when they learn the rhythm of "pump with your legs!!! pull with your arms!! lean back....further! You got it!!" *dance of joy followed by cup of coffee and book to read*
Naturally, being a music lover......I think "it don't mean a thing, if it ain't got that swing!"
And you know I could go on and on and about my favourite swing, big band, or jazz artists.
But let's keep it modern....and patriotic since Canada Day is on the way (July 1st.)
and if you prefer the old style of swing.....here's some Little Willie John
Both put a little swing in my step. How about you?
Finally.....I am sooooo sorry, but being a child of the 90s, this had to be done:
Actually, Garth is the best.
I'm not sorry at all.
Party On Swingers!