Well......there's a blog post title that should get some attention.
Don't mind me gagging over here though....because today we are Pondering: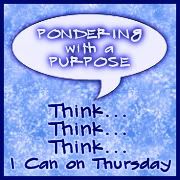 The rules are really easy:
1. Grab the Pondering with a Purpose Badge (in my sidebar)
2. Look at the week's prompt
3. Post something on your blog that relates to the prompt - it can be a story, a poem, a picture -- anything you want it to be.
4. Come back here and add the URL from your post to the linky list below.
5. Go check out the other bloggers who have added their links to the list.
6. AND most of all.... Have fun!
gag, gag, gag...choke...cough....sputter
Sorry to our lovely host....but when I think of "pill" my gag reflex kicks in. Hard.
Just look at those suckers! Ugh. Gag.
And I had to take several a day. I resorted to the crush them up in applesauce method.
Still made me gag.
Happy to have those things in the past!
But today's pill looks like this:
Whattheactualfeck?
Whatever.....
That's all I can choke out today.
Probably best I be under gag order during these times.
Only one thing to do in this state: swallow it down.
Live and Learn folks.