I am late to the
Pondering With a Purpose
party!!
Proving that despite what Brenda's button states: I cannot think on Thursday's.
I don't know what happened..... I guess you could say the day just "slipped" away from me.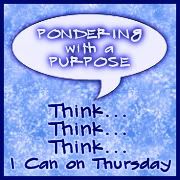 The rules are really easy:
1. Grab the Pondering with a Purpose Badge (in my sidebar)
2. Look at the week's prompt
3. Post something on your blog that relates to the prompt - it can be a story, a poem, a picture -- anything you want it to be.
4. Come back here and add the URL from your post to the linky list below.
5. Go check out the other bloggers who have added their links to the list.
6. AND most of all.... Have fun!
It was a busy day here.
Every 2nd Thursday I attend a mom's coffee chat play date event at a local community centre.
It provides supervision for your children. Nuff Said.
So I drop ZooZoo off in the play centre.....and
slip
on outta there quick to grab some coffee and chat with other moms.
Afterward, ZooZoo and I went to the store to buy some food and find a pair of summer sandals for her. She wanted Crocs. Which are a kind of outdoor slipper I say.
Since she is only 3 years old, I thought these would be easy to
slip
on and off for ZooZoo as she goes about her summer adventures.
And she was game to try them on......until she couldn't get the ankle strap over her ankle.
"Ahhh, shit mom. I can't do it.
"
Thanks for the nicely timed in crowded store
slip of the tongue
dear daughter.
Yes - I will confess -- 4 letter slips are my fault.
The rest of the afternoon ZooZoo, in her new footwear with ankle straps properly secured! - helped me dig a new extension on my garden. My garden has come in very lush and full this year and some rearranging was due. I also had to make room for some new plants. One of which with bright yellow flowers that is gorgeous -- but I have no idea what it is.
mystery yellow plant next to purple pansies
And you know, when I am
in my garden
-- time definitely slips away from me.
But as soon as we were done, I had to Google this pretty plant
Meet - via her close up -
Calceolaria crenata)
AKA.......wait for it.
The Slipper Plant.
No sh$t, eh.