So.....we had a bit of a storm here the other night.
You should have heard how the wind was blowing and howlin!
I know it was bad because it woke Left Brain up: he actually Sat Up in bed.
I have vivid memories of being about 7 1/2 months pregnant and standing on a windy apartment balcony trying to catch flying debris ---- while I could still hear him snoring above the raging winds.
So this was big.
You know what else is really big?
A flying gazebo.
Seriously. It's very impressive.
You know what is
not
impressive?
Seeing your gazebo on top of your neighbours' roof.
During a very windy rainstorm.
At 4 am.
Also, having to get said gazebo back down from angry neighbour
who walked back into his house that was warm and dry
roof. Not impressive either.
I was tempted to tell Left Brain that I would help him get it back down "later."
You know....like how he was going to buy the proper screws to secure the gazebo to the deck...."later."
Men. We need to have a serious talk about this "
later
" thing.
Cause this Flight of the Gazebo shit just ain't cool.
You will notice that there is no picture of the event.
Turns outs Left Brain does a pretty decent *side-eye*
I had to settle for the
later
After shot of flying gazebo now screwed securely back to the deck.
TY to men who helped hubby put gazebo back on deck after wind storm. I swear I thought he knew how to screw pic.twitter.com/YsXhgf7ogF
— Time out For Mom (@RoryBore) June 14, 2013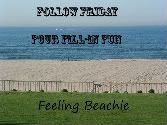 Each week, Hilary lists four statements with a blank for you to fill in on your own blogs. If you want to join the fun and come up with four fill in's of your own, email them to her at Hilary(at)feelingbeachie(dot)com.
This week's co-host is BETH ANN from
IT'S JUST LIFE
who came up with the last statement!
Hilary REALLY NEEDS CO-HOSTS
!!
Spread the word:
tweet,
FaceBook share
, and
add the linky
to your post.
This week's statements:
1. Sometimes I wonder if I should
clean my house from top to bottom.....
but I know I won't… Instead, I just linger around the middle somewhere.
2.
Jamaica Me Crazy
is my favorite flavor of
Keurig K Cup Coffee.
3. The thing I remember most vividly about
going through the pain and fatigue of child-birth
is
allowing 4 Residents to check my dilation progress --- but not allowing my husband to see me pee.
Girls' gotta have her standards you know.
4. When I am honest about it, I really
do miss my kids when I am away from them. I'm just never away from them. Much.
Don't worry though, I will keep a close eye on my brood until the storm passes.