Good Morning Saturday!!
So naturally....let's do Friday's Four Fill in Fun meme!!
It was a busy day of tent erecting (that sounded dirty, sorry) and new window installation and shopping for camp supplies and garden maintenance, and of course minding the minions.......
....at some point I'll get to that summer slacker part.
Well, something always has to give. And as Jennifer from
Just Jennifer
reminded me: it was my usual Friday beachie post. Go visit Jennifer and tell her to stop picking on me. HA!
No seriously, drop by and say hello: you won't be disappointed.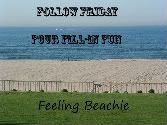 Each week, Hilary lists four statements with a blank for you to fill in on your own blogs. If you want to join the fun and come up with four fill in's of your own, please email them to Hilary(at)feelingbeachie(dot)com.
This week's co-host is Rachael from
Print & Stitch
– she came up with the last two statements!
Spread the word......
tweet,
FaceBook share
, and
add the linky
to your post.
This week's statements:
1. How is it
that as soon as we erect our tent.....it starts to rain
? It's like the sun looks down upon our tent and then runs away and hides. Every camping trip we've been rained out in biblical proportions. Yesterday Left Brain put the tent up in the backyard to apply the water sealant ---- and within hours a formerly sunny sky turned to dark and rainy.
because of course.
The good news?
It doesn't leak.
2. When I
think about going camping and sleeping in a tent under the stars at night
I
get really excited.
And yes, I do mean THAT kind of excited.
I don't know why the idea of sleeping in the woods makes me horny.
Don't worry -- 3 kids sleeping within the same tent is very effective mood killer.
3. I am not sure what I like best;
waking up and having coffee by a warm fire
or
late at night cold beer by roaring bonfire
because
both are pretty good excuses to drink alcohol. I mean get warm. Yeah that.
4. I am happiest when I'm
when I have a pretty good balance of family and friends time....and "me" time. I love people -- but I crave quiet moments these days.
The world seems to always be buzzing in my ears.
Good thing I bought a camping supply for that:
Citronella candle Canada Day bucket
One thing I give no slack too......skeeters!