Happy Friday!!
I am off to lunch play date.
Then later, movie/pizza night at home.
Probably The Goonies.
Never Say Die!!!
Yep.... TGIF.
we roll big around here.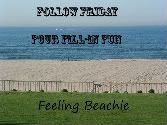 Each week, Hilary lists four statements with a blank for you to fill in on your own blogs. If you want to join the fun and come up with four fill in's of your own, please email them to her at Hilary(at)feelingbeachie(dot)com.
This week's co-host is BECKEY Pickles from
THE REALLY REALLY REAL HOUSEWIVES
who came up with the last statement!
Hilary REALLY NEEDS CO-HOSTS,
after so many weeks I am running out of statements!
Spread the word ....
tweet,
FaceBook share
, and
add the linky
to your post…
This week's statements:
1. One of my best and worst traits is that
I know how to take charge.
It's the Taurus thing, and we can get ish done!! But if you get in my way..... you might get the bulls' horns. you've been warned.
2. If I could escape for a day, I'd
be on a beach with a coconut drink in my hand watching waves crash upon sandy surf. Or......the tanned men playing beach volleyball nearby. You know, whichever.
This is my thought today, since we woke up to minus 2 temperature and actual snowflakes.
Tomorrow I might say cafe in Paris.
3. The best part of
waking up
is
someone bring me a cup of coffee? A big one? Or, I'll just lie here. Waiting. Seriously......I got no place else to be.
4. When I was young I thought
I would never get married and/or have children.
Don't judge. I couldn't possibly have taken them all on the cattle drive as per my cowgirl duties. And especially not since I was planning on stopping by the ocean to do some surfing on the way. Geesh.
And my apologies.
I could only find a cowBOY surfer picture.
I do hope you'll forgive.
Yes, Happy Friday All!!