I swear I have started other blog posts this same way...
Today is another PA day so all the children are home.
Plus one additional child under my wing.
The plus one brought me a double double coffee, so she's my favourite today.
Don't judge.
All The Children are Home All The Day
Thus, it should be no surprise to my readers that there are still no blog posts related to that Blog Every Day for a month challenge I mentioned.
Challenge declined.
I wanna spend May soaking up Spring. Not the reflection of my laptop display.
And since it's too soon to hit the beaches here..... I am most grateful for Hilary's happy beachie home I can visit virtually anytime I want.
See what I did there?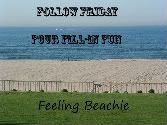 Each week, Hilary lists four statements with a blank for you to fill in on your own blogs.
If you want to join the fun and come up with four fill in's of your own, email them to Hilary(at)feelingbeachie(dot)com.
This week's co-host is BETH ANN from I
T'S JUST LIFE
– She came up with the last two statements!
Spread the word .......
tweet,
FaceBook share
, and
add the linky
to your post…
This week's statements:
1. Sometimes I wonder
if the coffee has not kicked in
yet...... or I am really that slow and stupid?
2. I try not to but I get
frustrated
very
easily if I cannot figure something out.
This may or may not be related to how many cups of coffee I have consumed, and/or, how many of my children are home at any given time.
3. Today I promise that I will
bag all the leaves I raked from my gardens
until I
am crippled by back pain because that will make Left Brain feel really bad he forg0t to do it, and thus someone else just might deliver me a coffee.
Don't judge. It's a lot of leaves and All The Children keep spreading my neat piles over the lawn. Again. And Again.
4. In my dreams I
dream vividly and in colour
and sometimes......
I even remember them.
You can read about one of my most vivid and remembered ones
Right Here.
Have a good weekend everyone!