I'm very late to the Pondering Party this week.
Left Brain is away right now, so it's been pretty busy around here. I apologize for not being a good blog visitor right now, but when he returns, I am sure things will be back to normal.
I'll be back to doing only 80% of the work. HA!
Just kidding honey. Hope you are having fun.
The other reason is because, oddly enough.....it's been very stormy here.
Extremely windy.
How apropos.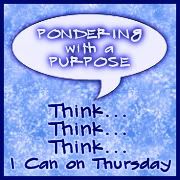 Today's prompt is: Twist
What a diverse word those five little letters turns into...... (or should I say twists into?)
First thing I think of, thanks to the howling outside my windows -- which are literally rattling. And my garbage is being flown around the yard:
And then I think, OH - I haven't watched this in awhile:
But at least I don't have these:
Which makes me think naturally: you have a twisted sense of humour.
but not as bad as some.
That's some intense concentration Gollum.
But I feel your pain.
Mostly when I play one of my favourite computer word games.
So, here you go: A Pondering Post with a Twist.
How many words can you make?