Hello Friday and fellow 4 Fillers!
I am here...but only briefly!
A good friend of mine is having a party this weekend, so Left Brain and I are dropping the kids at my parents house and getting our groove on!!
See..right there. "
groove on
"
that's how long it's been since I think I've been to an actual live adult -- and by that I mean "grown up - no kids allowed" - PARTY.
So if you don't hear from me right away, it's probably because
It's Too Loud SSSHHH
keep it down will ya.
Yes, I will be wearing this while I visit all your blogs:
Which is really sad because in reality it's been so long since I've been out, that it likely is going to be about 4 drinks. The party is 2 pm until midnight...it's more likely I'll just be tired.
Around 8 pm.
Don't worry Left Brain....I got you a shirt too!
actually - you can pick one:
Yep. Thinking this is not going to end well for either of us.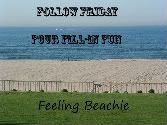 Each week, Hilary lists four statements with a blank for you to fill in on your own blogs. If you want to join the fun and come up with four fill in's of your own, you can email them to her at Hilary(at)feelingbeachie(dot)com.
This week's co-host is Tami from
Empty Nest in Il
– she came up with the last two statements!
Share the Fun:
tweet,
FaceBook share
, and
add the linky
to your post…
This week's statements:
1. I don't like to
brag, but I am on my 3rd cup coffee; it's only 10 am.
This is my other t-shirt:
2. I love to
wake up to the sounds of children fighting and screaming at one another at crack of butt
in the morning. I'd also really, really love it if someone got to work on that
sarcasm font
.
3. If I could change one thing in my life it would be
to have paid more attention to current events over the past couple of years. What do people talk about at parties these days? My kids are all potty trained so I cannot even talk about poop. Can I?
4. If I was better at
being all shy and wallflowerish
, I would
actually have you convinced I am going to a party and will not find anyone to talk to, or have anything to talk about.
This is the home of
Coffee Chat
you know.
Although, I am guessing English will probably become my second language pretty darn quick at this party.
But, that will be fun too.
If all else fails: I got a get-out-of-jail free card in my back pocket anyway.
For the record, my stupid human trick IS that I can say my ABC's backwards.