As I mentioned in previous posts: Left Brain is back home!!!!
See....all that energy Right There?!
2 mornings of sleeping in. Thank you very much.
I won't talk about what kept me up so late here.....except to say, your hubby returning home is WAY MORE fun than having him go away.
So don't worry about all that Fangirling that goes on around here: he
knows
I missed him.
Believe!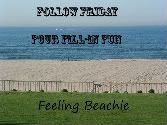 Each week, Hilary lists four statements with a blank for you to fill in on your own blogs. If you want to join the fun and come up with four fill in's of your own, please email them to her at Hilary(at)feelingbeachie(dot)com. This week's co-host is JANICE from
TICK TOCK MY CLOCK
– She came up with the last two statements!
Spread the word about this hop….
tweet,
FaceBook share
, and
add the linky
to your post…
This week's statements:
1. The color
blue
reminds me of
the ocean.
Specifically floating peacefully while gazing at a beautiful Caribbean sky.
Jaws theme optional.
2. Lately
writing
is
flowing
so
easy.
Time to write is much more fleeting.
3. Does the sound of breaking glass make you
grab the martial arts fighting stick by the bed, and your cell phone at the same time
? Just me? Ninga Skillz: Like.A.Boss
4. When I wander,
unlike the famous quote
, I
inevitably risk getting lost
.
Here's the tweeted evidence:
Tried to take a short cut driving today; got lost. Some who wander.... Should pack snacks
Yes, so both parents managed to find their ways back home this week.
And the minions rejoice.