This lateness.
Really, it's gotta stop.
I think I'm tired of winter. My butt is dragging too much of late.
So much looking forward to an end of this cold and snow and to once again feel the fresh breath of Spring on my face.
I'll probably even write about it.
Eventually.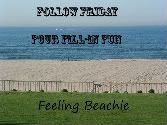 Each week, Hilary lists four statements with a blank for you to fill in on your own blogs. If you want to join the fun and come up with four fill in's of your own, please email them to Hilary(at)feelingbeachie(dot)com.
This week's co-host is Pam from
Trooppetrie
she came up with the last two statements!
Spread the word about this hop….
tweet,
FaceBook share
, and
add the linky
to your post…
This week's statements:
1. My
big toe
is my least favorite feature. The fact that I listed that over post baby belly....is really saying something.
2. I was very
tomboyish
as a child. I spotted a bruise on my shin the other day..some things never change.
3. The first room I clean in my house is
the kitchen
because
everyone knows it's the hub centre of the home.
Also, that's where the coffee pot is. I must get to it.
4. If I had the guts to
sing in public
then I could
grab Hilary and it's All Karaoke Till Dawn till there is No More Fear.....also, Shame.
Gotta run. I'm trying to get through the second season of
The Walking Dead
, so that I can eventually get started on the 3rd Season and actually be current/on time with something.
It's been some pretty late nights watching zombie shows. I'm pretty tired.
I feel like...well, a Zombie.
Well played Irony.