Congrats to our wonderful host Hilary on the
100th post
of Follow Friday 4 Fill In Fun!!!
Thus, nothing about little ole me today...... it's
Hilary's time
to shine. Hop on over and find some missing words.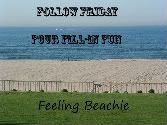 Each week, Hilary lists four statements with a blank for you to fill in on your own blogs. If you want to join the fun and come up with four fill in's of your own, please email them to her at Hilary(at)feelingbeachie(dot)com. This week's co-host is Beth Ann from
It's Just Life
– she came up with the last two statements! Also Beth Ann as been her for almost all of the 100 fill-ins!
Spread the word about this hop….
tweet,
FaceBook share
, and
add the linky
to your post…
This week's statements:
1. I can't believe
that I am married to an old fart of 45 years.
HAAA! Happy Birthday Left Brain: you know I got nothing but love for ya baby!
2. I never liked the TV Show *
insert any random reality TV show of stupid people somehow made famous*
3. If I were a
less self aware person
I would most definitely
worry about All The Things I cannot control.
4. I
can get pretty obsessed with discovering the conclusion
when I
suspect there is some great mystery to be solved!
This is also why I always have to finish a book or a movie. Must.Know.End
Some might say this is just being "nosey"......I prefer
Seeker of Truth
:)
No go on over and visit Hilary - one of the nicest bloggers around.
True story.