Today is a PA Day.
I have my own 3 children, plus the little girl I babysit a few days per week.
And Left Brain will be sleeping off the last night shift.
Because, of course.
All I can say is wine is a-chilling and sleep well darling. S'sly, get lots of rest; I got some sweet plans for later on.
On another, almost as hot note, do you have a great post from 2012 that you want to spotlight? Or, did you discover a great blog post from another blogger in 2012 that you want to share the love?
If so, head on over to The Sarcasm Goddess and link up your post!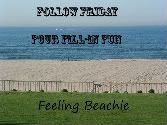 Each week, Hilary lists four statements with a blank for you to fill in on your own blogs. If you want to join the fun and come up with four fill in's of your own, please email them to her at Hilary(at)feelingbeachie(dot)com. This week's co-host is Amy from
Life According to John
– she came up with the last two statements!
Spread the word!
T
weet,
FaceBook share
, and
add the linky
to your post…
This week's statements:
1. I was probably the only kid in the world who
actually prevented a kidnapping.
No kidding here folks - apparently I kicked the guy in the shin when he tried to pull my friend into the car. Turns out it was his father who was upset over a custody battle: but still, now you know it's true when I say: wicked ninja skillz.
2.
Orange and cranberry mixed together
is my favorite juice. Add some Sprite or ginger ale for a little "pop".....add some vodka, well -- you got yourself a party. Tiny umbrella optional.
3. I never thought I would
get married or have children
until I
met Left Brain.
Sometimes it's not a matter of what you'd do for a guy.....but
what you wouldn't do For The Right Guy
. (yes, I am kissing up for reasons revealed later in the post.)
4. I have always wanted
to travel the world
but
kids and mortgage have somewhat derailed that ambition.
Perhaps some RVing in our golden years Left Brain?
In other news, one of the first bloggers I ever first started following - like religiously, was Rachel over at
The Mean Girl Diaries
. I believe her blog home was actually my first guest post too. You always remember your first, thus, I am so thrilled to announce that Rachel is having her first novel published today:
On February 1st, you will be able to purchase the ebook, Escaped: A Samantha Scott Novel in the following formats: PDF, PDB, MOBI, LIT and EPUB at the Eternal Press website. As that is the day the book is being released into the various systems, catalogs and databases the approximate timeframes you can expect to see Escaped (in print and other ebook formats) elsewhere are listed below:
Available in the Kindle Store (Amazon): 2 days*
Available in the Nook Store (Barnes & Noble): 1 week*
PRINT Edition on Amazon: 2-3 weeks*
PRINT Edition on B&N: 2-3 weeks*
Available in the Kobo Store: 2-3 weeks*
Available on iTunes: TBD
* an approximation of time after the release date
You can find more info, see a trailer/interview with the author, and enter a giveaway at her author website
HERE.
Have a great weekend everyone!
I'll be hopefully catching a certain flick about fairy tale siblings and witches starring a certain someone. Which means, if you remember from last week, I will pretty much
owe Left Brain
a starring role in his own bedtime fairy tale.
No honey.....I do not own a leather corset.
But I will bring the Candy.