I was down and out again the past 36 hours.
I'm not sure, but I think it's the plague.
ok, maybe a bit dramatic. but seriously, this "bug" just doesn't want to go away.
Hence the reason we likely call them "bugs."
Although, I guess I shouldn't complain too much since it allowed me to lay in bed and watch
The Hurt Locker.
(so incredibly amazing!)
Also,
The Avengers.
You might find some coincidence about those films, if you looked them up.
I don't know... and can't say since I was in quite a
Fever
, let me tell you. ;)
Don't worry about me; I am sure I'll be just fine.
Well enough to join Hilary for this week's Fill In Fun - I'm the co-host this week!!
Come join us.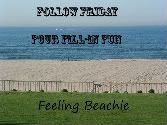 Spread the word

: tweet,
FaceBook share
, and
add the linky
to your post…



The statements are:
1.
When I
do my grocery shopping,
I
am likely that girl you will find singing along to the elevator tunes and dancing in the coffee aisle.
Sometimes -- you just have to make your own fun. Ya know?
2.
It is pretty funny that
I have a BA in Honours English Literature, yet I mispronounce, misspell and wix up my mords all the time.
I can however read super fast. Got the tshirt:
3.
It may be strange but
for a gal who loves to lounge in bed, I seem to be having great difficulty actually sleeping in it lately.
4.
How
my children all played together outside - nicely
made me
very happy since my MIL was here for dinner. Also, it's much nicer and easier to enjoy a glass of fine red wine when children's playing is heard through double pane glass. Scientific Fact: I know as a result of extensive field research.
If you missed it earlier this week, drop by Just Jennifer's blog to see my guest post on how we both deal with fear.
Have a great weekend everyone!