Hello Friday...
.....yah, that's all I got.
It's too cold to be funny.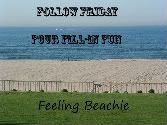 Each week
Hilary
has statement with missing words. Your mission is to fill in the missing words. If you want to join the fun and come up with four fill in's of your own, please email them to her at Hilary(at)feelingbeachie(dot)com. If used, she will add you as co-host to the hop!
This week's co-host is Beth Ann from
It's Just Life
she came up with the last two statements!
Spread the word about this hop…. please
tweet,
FaceBook share
, and
add the linky
to your post…
This week's statements:
1. Making
coffee in the morning
is
essential if you
.......well, pretty much expect anything from me for the rest of the day. Best leave it just outside the bedroom door and back slowly away.
2. I get
impatient
easily. Waiting and me do not get along.
3. The number of emails in my inbox is
both overwhelming
and
welcomed
. That is the contradiction that is me.
4. Traveling
in a car for long periods
makes me
incredibly restless
. If you are with me and don't want to be driven crazy: bring lots of tunes and let me be the DJ. It really is the best solution for Everyone On The Road.
Reading back over my answers, I can definitely detect a bit of the grump in me. Old Man Winter and this freezing cold front has kept us all indoors for a week.
I fear the Stir Crazies are not far behind.
And that will end well for no one.