Happy to be back with the 4 Fill in Fun this week!
My apologies to our lovely and dear host Hilary that I skipped the hop over the holidays.
I was busy
filling
.....but it was the blank hole in my face with goodies, mashed potatoes, turkey and wine.
I no write good when in food coma.
Remind me to get my mother's caramel cheesecake recipe for you.
It will all make sense.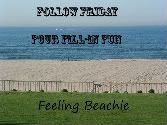 Each week, Hilary lists four statements with a blank for you to fill in on your own blogs.
If you want to join the fun and come up with four fill in's of your own, please email to Hilary(at)feelingbeachie(dot)com. If used, you will be added as co-host to the hop!
This week's co-host is Ali from the
daughter-in-law diaries
– she came up with the last statement!
Spread the word:
tweet,
FaceBook share
, and
add the linky
to your post.
This week's statements:
1. Every time I see a
Hot Harry on a Horse,
I oh an ah…
I know....you're all thinking this:
DanRad in Equus
But this will also do nicely:
Prince Harry playing polo.
I'm sorry. It really is a "cowboy thang".
Real men can ride.
If you find it too hot to handle, how about this one?
Awwwww! A young Prince Harry in h

is nursery
2. I don't have a
jealous
bone in my body.
Unless you steal my cowboy....than imma gonna have to hog tie you :)
And yes, I can do that.
3. I like
ketchup, mustard, mayo and if I got 'em hot peppers/pickles/sauce
on my burgers.
I cannot tell you how hungry I am Right.Now.
4. If I had one more hour in the day I would.....
well, today I am thinking: I need to find me a horse and go rustle up some burgers and hot sauce.
Harry's are optional.
Have a good one everybody!