Normally I try to think of a clever title for my blog posts, and I don't always state the week number of a particular meme --- but oh my!
Just look up there -- 90!!! Way to go Hilary.
Thanks for sticking with us through even stormy weather!
I normally try to give you a little update on the homefront also, but
Les Miserables
is on my TV and quite honestly -- it's mesmerizing. Much better than when I had to read it in University - in French.
Also, I cannot type AND sing all the songs into my remote control at the same time.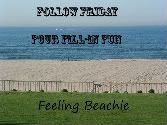 Each week
Hilary
gives us four statement to complete on our own blogs. If you have any statement suggestions, just contact her at Hilary(at)feelingbeachie(dot)com. If used, she will add you as co-host to the hop!
This week's co-host is Ali from the
daughter-in-law diaries
– she came up with the last two statements!
This week's statements:
1. I usually
promise myself to go to bed before midnight
but never
seems to happen.
Stop writing all those awesome blog posts please! I'll get more sleep.
2. I was named a
fter an actress who portrayed Cinderella
because
it was my mom's favourite story, and thankfully she realized that she couldn't name me"Cinderella."
3. I would never change
superficial things (implants, Botox)
about my body, but I would change
anything for health related reasons (breast reduction/lift to prevent back pain, or separated stomach muscles for core stability.)
I'm not opposed to anyone wanting to look and feel better -- just be sensible ladies.
4. The last time I said "I Love You" was to
my son when I tucked him into bed tonight.
Left Brain may get one when I tuck him in later too. *wink*
It will be much quieter on the homefront this weekend.
So naturally, I feel awesome and ready to party.
But I will probably be watching sappy holiday movies and wrapping gifts since Left Brain is working nights.
Do you have all your shopping done and gifts wrapped?
Update:
It seems that some of you may be having trouble leaving comments, and I as well seem unable to leave a comment on some of your blogs. Sorry for the trouble - and if you haven't heard from me in awhile, feel free to send me an email and let me know: because I am visiting and trying to comment. I promise I am not ignoring anybody!