If you read my
Pondering Post yesterday,
then you probably learned two things:
1) I was sick in bed. A rare sick day where I was actually sick, and actually spent the day in bed.
2) I write much better when I am sick, and in bed. All. Day.
How sick was I?
I didn't have one cup of coffee. All.Day. Not.One.
(I did however consume All The Drugs and approximately my own weight in clementines.)
Back to the non-coffee day where time actually did not stand still or hell freeze over to my knowledge, and yet, it is really sad because I finally received this item I had ordered at the She's Connected Blog conference in October:
My Twitter handle on a McDonald's McCafe coffee mug!
It's my new
precious
.
The cookies were just because......Hey, Cookies!
So since I am still not feeling completely well, and still abed sans caffeine; let's see how well I do with finding the missing words to some unfinished statements.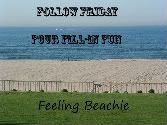 Each week,
Hilary
lists four statements with a blank for you to fill in on your own blogs. If you want to join the fun and come up with four fill in's of your own, please email them to her at hilary(at)feelingbeachie(dot)com. She could really use some co-hosts!
If she uses them, you will be added as co-host to the hop!
This week's co-host is Beckey from the
really, really, real housewives
– she came up with the last two statements!
Spread the word about this hop….
tweet,
FaceBook share
, and
add the linky
to your post.
This week's statements:
1.
Spending all day
in the
bed when your are sick
is the
best way to write a blog post get better soon
.
2.
Left Brain
is my
knight in shining armour today as he allowed #1 to happen.
3. I like to think
that I could be a stay at home mom for many more years
; but I know
I will have to return to work within the next year.
4. If I just
make some money with this blog, or write a bestseller
, then I could
resign from my 4 gray walls are closing in on me, type all the data, answer all the calls, "
Comment puis-je
vous aider?" boring Government job.
Now I think I will break that new mug in by filling it up with Neo Citran, and as long as I don't induce a sugar coma, I will hopefully wake up feeling fine.
It's very important that I wake up feeling fine because Left Brain's work Christmas party is Friday night, and no way mama is missing a night out of the house!