Fridays are normally the day when I am finishing me some sentences.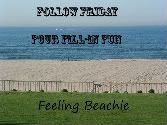 However, Hilary isn't feeling so
Beachie lately
, thanks in no small way to a storm named Sandy.
Thus, no statements to complete this Friday.
Please continue to remember all those who have been so severely affected by the hurricane in your prayers. If you have the means, donate whatever you can to programs that need our help.
As for me I confess, I feel a bit incomplete myself when she is gone.
On to Day 9 of the challenge.
Today's prompt comes from Sally Jadlow.
Here's Sally's prompt:
Use the phrase "When he's gone…" for your poem. The phrase can be in the title. It can be the opening line–or the closing line. It can show up somewhere in between. Just use it…somewhere.
This was actually an unfinished poem that I had attempted for one of my Muse
Janice
Poetry Lounge prompts. It was just begging to be finished, and this prompt provided the ending it had been waiting for.
Drifting Hope
hope stirred, though lately lost
whilst stormy seas still raged
it raised its head
from the murky depth
and drank the foam
of the deep blue sea
Suspended - it floated
like so much jetsam
weeping for the love to set it free
And I, swept away
by salty spray and tear
Tossed - wildly asunder
like flotsam that will not bear
the weight of my grief
a distant horizon slowly sinking:
there is no safe harbour
when he is gone.
It's been a long week and I am feeling adrift myself.
Have a good weekend everyone!