Hey...look at us: We made it to Friday!
Woot. Woot.
whoops, I don't think we are doing that anymore.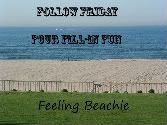 Each week,
Hilary
lists four statements with a blank for you to fill in on your own blogs. If you want to join the fun and come up with four fill in's of your own, just email them to her at feelingbeachie@gmail.com. If I used, she will add you as co-host to the hop!
This week's co-host is
Jessica from Black White and a little bit of pink
– she came up with the last two statements!
Help spread the word about this hop….
tweet,
FaceBook share
, and
add the linky
to your post…
This week's statements:
1. I have always dreamed of
writing a book that will be read and adored by millions, thereby allowing me to finally purchase my very own private island, upon which I can spend my days alternating between talking long walks on the perfect, white sand beaches, swimming in the azure crystal surf, and writing that sure to be a best seller follow up.
Too much?
Also, annual beach party. every one's invited!
2. My
night owl writing tendency
is my
early morning downfall
.
3. I love to
listen to music - loudly
when I
clean the house
. I'd also love to say that I listen to a lot of music loudly quite often.....but really, we all know that would be a half truth of the previous statement.
4. I will never forget
my first kiss on stage
with
(who I thought) was one of the cutest, sweetest boys in high school.
No, No; that isn't entirely correct. I remember his girlfriend sitting dead centre front row much better. Hello StinkEye....relax. We're
Acting.
*pinky cross*
Thursday I headed to the mall to get a start on my Christmas shopping.
Well, I got half way to the mall, and then had to turn around to go back and pick a sick Monkey Boy up from school. Left Brain has also called in sick. I am hoping that it is just the nasty cold it sounds like, and nothing worse.
And yes, I did drop him off back home with daddy....... and headed back to the mall.
Also, I am available for that Mom of the Year Award whenever you want to Hand.It.Over.
Pretty sure I am going to get it anyway when they see what I got them for Christmas.
If you are following the PAD Challenge:
Day 28 is HERE.
Have a great weekend!