I am so happy to be participating once again in Follow Friday Four Fill in Fun!!
My happiness exists on several levels:
returning to the beach means that our most awesomeness host Hilary is OKAY Take That Sandy!! You may have swept in with all your bluster....but you cannot keep bloggers down!
Okay....temporarily our dear blogger was "down", i.e. no power.....for what? over 2 weeks I believe? shameful.
I was kinda hoping there would be a gratuitous shot of turkey, given the American Holiday, but poor Hilary may not even have a functioning kitchen yet???
I need a break from poetry
with the holiday rush and madness Right Around The Corner....I could use a trip to the beach. even if only virtually speaking.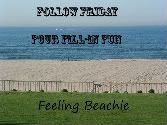 Each week, Hilary lists four statements with a blank for you to fill in on your own blogs. If you want to join the fun and come up with four fill in's of your own, please email to feelingbeachie@gmail.com. If used, she will add you as co-host to the hop!
This week's co-host is Pam from
Trooppetrie
– she came up with the last two statements!
Please help spread the word about this hop….
tweet,
FaceBook share
, and
add the linky
to your post…
This week's statements:
1. I put
mustard, ketchup, relish and sometimes hot peppers
on a hot dog. Otherwise, cut it up and drown it in ketchup.....and Kraft Dinner It's hard to let go of those "starvin student" days, ya know?
2. When it gets
really quiet in the house
I
breathe a sigh of relief.
....and then run like a mad hatter to see what has been broken, painted on with yogurt or pudding, flushed, or other kinds of mayhem.
3. If my house
was bigger
then I would be able
to really hide from the kids during Hide and Seek
.
4. If I was getting married tomorrow I would
not do anything differently
so we could
still afford to buy our home, have children and have me stay at home because we didn't put ourselves into debt just to have a wedding
......Wait. what was the question?? Doing nothing differently now: Still broke, still married, still happy......Ever.After.
Forgive me.....I just had to include the turkey shot.
This just cracked me up:
I SAID I GOT THIS!
Have a great weekend.
Our little town has its' Annual Santa Claus Parade this Saturday night. The kids can't wait!
I probably won't have any pictures, because my iphone doesn't have a flash. And who I am kidding.....they still throw candy at our parade. No way I'm gonna be busy with a phone camera and let the kids get all the good candy!!
P.S. My LOL cartoons are perfect Friday Silliness!!