Even though I had a fantastic time at my conference last weekend, (and I will be posting some of what I learned starting next week), I did miss participating in one of my favourite blog hops.
This is a good realization.
Knowing that I missed that connection with other bloggers: simply by having fun answering some unfinished statements, really helped me remember why I am blogging in the first place.
You.
Okay, so it is pretty awesome to be published too. That I cannot deny.
You can find my article on
The Huffington Post
HERE.
(some of you may recognize it from a guest post I did awhile back for the lovely
Bruna at Bees With Honey
. It's one of my favourite pieces I've ever written.)
Some comment love and sharing would be greatly appreciated. Because it would be really cool if they let me write another article.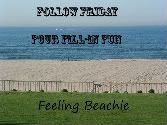 Alright.....off to the beach.
Every week Hilary posts these fun statements for us to finish. This week's co-host is Irene from
Me, Myself and Irene
(she came up with the last two statements). Join in and spread the word:
tweet,
FaceBook share
, and
add the linky
to your post…
This week's statements:
1.
My eyes
are (is) my favorite feature. They are blue, but often change colour depending on what I wear. And they look really great in false lashes! Who knew?
Irony?
I'm blind as a bat. (not sure if you can see the contacts.)
2. Thinking about
Alex
makes me
sad too Hilary
. Zoo Zoo still asks about him. She'll be thrilled to see the picture today.
3. It's been a long time since
I did a work out
. Yikes!
Well, that is, unless you count walking
everywhere
around Toronto in high heels for 4 days as a workout. My calves, legs and feet are saying: "
aye!
" and "
what the heck is the matter with you
!?"
4. I just don't understand
Politics
. My own country confuses me, and American politics confuses me even more. I don't get the tie colour thing. I can't tell the difference between Republican and Democrat. But mostly, I cannot understand how someone like
Ann Coulter
even exists in politics.
Hey Ann, if you're such a smarty pants?
How come you haven't learned yet that words
can
really hurt?!
So, hey.....have you entered the giveaway for some of my blog conference swag yet? See details over in the sidebar, or just go HERE TO ENTER..
Have a great weekend.
We'll be celebrating a certain little
Whos'
3rd birthday here in Whoville.
If you are so "ovah" Dora.....be thankful I don't
vlog
.
Unless you want to take a crack at this:
I know that you do.