So Brenda over at
Fiction With A Purpose
is Pondering -
What Is New
?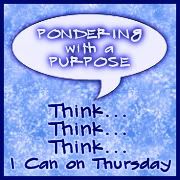 Hmmm......let me think a minute.
I'm sure I can come up with something...."
New
".
Well, the kids are in school now.
That's definitely new.
I actually have to get out of bed and feed them before I send them off. No more, "
there's granola bars in the pantry
" as I linger over another cup of coffee
and tweet.
Course with that change comes all sorts of new things: backpacks, lunch boxes, pencils, crayons, and shoes. Not to mention - homework. Agh. I can't blame them, I hate it too.
But I think Brenda is looking for something more....personal. She mentioned her love of gardening and how she learned it later in life.
I love to garden too!
And despite an almost 6 week drought here; evidence shows I must be pretty good at it.
Why, yes indeed - I will show my work!
bell flower
bee balm and daisies
margarita daisy
Sedum - "Autumn Joy"
rudbeckia, "brown eyed Susan"
I am definitely learning more about gardening as each season passes, but honestly - I come from farmer stock so it's kinda natural for me.
So......new. New. Anything New??
Oh, did I mention I am going to a Blog Conference? I did? Oh.
Well, that's still pretty exciting!
What else?
I know there's something I wanted to mention......
Oh, well....while I am Pondering it over, why don't you go ahead and grab my new blog button.
You might notice: it goes with the new blog design.
Turns out.....you can teach an old dog new tricks.
P.S. It was a lot of work and I hope you do like it. A complete change for me. Gone is the cutesy DIY look - which I did adore - but mama wanted to put a little "sass" into this time. Feedback is welcome, but know this: if you recommend a change and don't see it happen: I probably have no clue how to do it! Ha. Still have a lot of "new" to learn.