Hey - remember when I was all, like, excited, and said:
"
It's a new season! Time for a brand new blog design!
"
And then I was, like, frustrated on The Twit one day and said:
"
HTML, CSS and template designs OH MY!
"
But I keep persevering. I didn't give up.
Except sleep. Which is not advisable; especially when you are slowly discovering you're not quite as smart as you thought you were. And you have children who enjoy, you know, like.....doing stuff.
In fact, you're pretty much a complete idiot. At least where technology is concerned.
And you really should just take a break.......or a nap.
Pretty sure the kids are completely on board with all the quiet and rest mommy needs right now.
Just kill me now.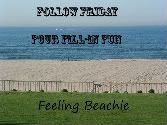 Each week, Hilary lists four statements with a blank for you to fill in on your own blogs. If you want to join the fun and come up with four fill in's of your own, please email them to her at feelingbeachie@gmail.com. If she uses them, you'll be added as co-host to the hop!
This week's co-host is Janice from
Janice's Footsteps
. She came up with the last two statements!
Please help spread the word about this hop….
tweet,
FaceBook share
, and
add the linky
to your post…
This week's statements:
1. I wish I had
more time
to
redesign my blog
. That was just way too easy.
2. I stopped wearing
a bra.
Technically, I still wear a bra like thing....it's more an exercise style. But me fancy "here big fishie" tackle is a thing of the past. For now. I am hopeful that I will in fact be bringing sexy back at some point.
3. My favorite song right now is
"Pure Soul" by Elijah and the Ebonites
because
white suburban housewives love hangin loose with the dem funky, jazz-disco vibes. Word Y'all.
If you want to hear the jam, follow me here:
4. I always sing while
in the shower
. Or the kitchen. Certainly in the car. Most definitely while blogging.
Um, I just realized I have to go apologize to Angel Girl before she heads off to school.
She's currently belting out "
Call Me Maybe
" with all the muster her little heart can back it with.
She's on the toilet. Zoo Zoo's outside the door on back-up vocals.
Apples -- meet tree.
Have a good one everyone!
P.S. I do promise, pretty soon you'll come visit me and it will be like "BOOM!"... new look.
I'd say "
amazeballs
" but that would defeat the whole new-me professional image I'm going for.
Like, totally.