My Thursday "day off" has finally come to an end!
If I ever post here again about booking 3 meetings in one day.....will one of you please come over here and slap the ever lovin' crap outta me?
Thanks.
And I love you for that.
It's 11:14 pm Thursday night and I am just getting ready to watch the Wilfred Season Finale. On my new laptop. In bed.
There will be popcorn.
We roll big here.
And then, because I had 2 cups of coffee at my last meeting of the day at 8 pm, I am guessing I will be up answering a few questions.
That will be fun too.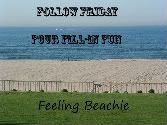 Each week, Hilary lists four statements with a blank for you to fill in on your own blogs. If you want to join the fun and come up with four fill in's of your own, please email them to her at feelingbeachie@gmail.com. If used, she will add you as co-host to the hop! This week's co-host is Pam from
Trooppetrie.
Please help spread the word about this hop….
tweet,
FaceBook share
, and
add the linky
to your post.
This week's statements:
1. The last time I was on vacation, I went to............
wait....what? What is this thing "vacation" you speak of? Are children present? Because if so, I know not what you speak of.
2. For
daytime snacks
I like to eat
fresh, raw veggies
. Especially crisp green beans or snap peas. Most especially from the local farmer's stand. Mmmmm.
3. My heart hurts when
it is going to rain
because
that is the downside of living with migraines
. The upside is, my head is a much better weather predictor than your local weather forecaster.
4. Why must
children yell
just to
get our attention. And when I am on the phone
? I mean, honestly kiddos....STOP YELLING!
Head on over to Hilary's and see others have answered.
CONTEST REMINDER:
Beth Moore et al. book,
Woman and Her God
giveaway ends this Sunday. If you'd like a chance to win the book, leave me a comment
HERE

.
Have a great weekend everyone!