I consider myself a person of able body.
Sound mind is missing from that sentence.
no, no...that's not a typo.
Honestly though, I can do most things I try my hand at.
Sports. Yep.
Which one?
All of them. Seriously, I played basketball, soccer, baseball, and volleyball in my school years. I did the Pentathlon for Track and Field (100 meter, 1500 metre, high jump, shot put, and long jump). And, if that wasn't enough, I was on the Kingston Track team which meant training for my running all year long as well.
Live Theatre. Yep.
I kissed a boy on stage and I liked it.
My mom.....and his girlfriend did not.
Grades. Yep.
Yes, I am that girl who stayed out all night at the Frat Boy Kegger, came home half drunk at dawn to write my essay .....and got an "A." And earned my nursing student roomies', who goes to bed sober promptly at 10 pm, eternal hatred.
Make beautiful children. um, well, they do have half my genes. so, yeah, clearly. *eye roll*
No, no Left Brain; you cannot take any credit.
You're part was far too easy and I suspect you'd do it again. And again.
Oh yes, that reminds me.....clearly, I am the funniest - ever. *cheeky*
Or perhaps I only play a comedian on my blog.
So finally, the one you know I love: Music.
Piano, guitar, flute, trumpet and a brief turn on the drums. My music teacher thought he had a prodigy. But then I had to go run like 6 miles before play practice, so you know......something had to give.
And, I have an idiot-savant like ability to remember the words to
every song I have ever heard
.
But, but.....and here's where it all falls apart. A little secret between you and me - so that you don't leave thinking "
wow, brag over-much
?"
A little nugget of truth so devastating that it halted me right smack dab in the middle of supper prep yesterday. The music was blaring, the kids were leaving me alone, I was feeling good......I knew that I would, yeah! -- my feet begin to move -- the scene was set. It shouldn't have happened. but it did.
As my arms went this way, and my legs went that away....and I darn near face planted on my dirty hardwood floor; neatly diced veggies flying in a rainbow arc across my well lit kitchen: I was forced to face the inevitable truth:
white SAHM who no longer visit da clubs: can't dance
At least this one can't.
But I am sure that I could once.
Or *gasp* could it actually be that I didn't look as
sexy as all that
like I thought I did back in the day?
Oh, the horror of a thousand past chicken dances, Mamba #5's and conga's are flashing through my mind.
No, no....it can't be that bad. I'm just out of practice is all, right?
But, between you and me, I'm a little scared.
I don't play much sports these days and I can barely remember how to pound out
The Entertainer
on the piano. But I can live with that. You can't do it all and do it all well, right?
And let's face it, I will always, always bring the laughs.
That's just a gift, really. You don't just lose a gift like that.
But my groove. Oh the humanity!
I can face the loss of some of my talents. I might even be okay if I never made someone snort coffee through their nose again.
But to dance......to dance is freedom. To dance is poetry in motion.
And why, of all things. Of all that is precious and sacred and fun about me.....
.......Why is my groove gone?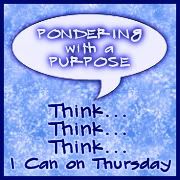 When of things I most look forward to seeing in my children's future, is what talents and interests they develop. Will they be mostly like me, or like Left Brain? A good mixture of both? Or completely unique?
Let's hope that....because Left Brain. He never had groove, and that can't bode well for our offspring.