You got questions?
You'll have to pardon me a little; that was the theme for last night's
Wilfred
episode. My mind is still stuck somewhat (oooh, unintentional alliteration - luv it!) in the sad, strange trip - within a trip, that unfolded. Will Ryan ever find the answer to that question, "
What is Wilfred
?" I don't know, but I am so enjoying the journey. Incredible show. Dog eating vomit with fork aside. Yeah, fer reals.
Last night, the closing moments were so, so sad. Just a lovely emotional moment between Ryan and Wilfred. Very Calvin/Hobbes like......and I just wanna hug Elijah Wood. Fer reals.
Fer Longs.
Ahem, so anyhoo....you know who else has questions needing answers?
And this week, I get to be your
Spirit Guide.
Sort of. Humour me
.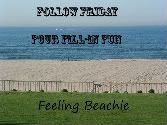 Each week,
Hilary
lists four statements with a blank for you to fill in on your own blogs.
This week's co-host is Leslie from
Time out for Mom
(Hey! That's Me.) she came up with the last two statements.
Help spread the word about this hop…. So, please
tweet,
FaceBook share
, and
add the linky
to your post…
This week's statements:
1. I love to
dance
but I hate
looking like an idiot.
It's a
recently discovered, real dilemma
and it still kinda smarts a bit.
2.
Coffee, morning hugs.....and children who play quietly while you answer fun (that's an important distinction) questions
makes a day better.
3. They didn't think I could
survive
be happy staying at home with kids
, but I have; and I am.
4. Warning:
ovary implosion alert!
Come to think of it, that makes a day pretty darn good day too!
S'sly....I may have dropped an egg. Right. Now.
Alright, enough of that: I'd better get off this cougar trip and get myself down to the *Mart for Back to School Supplies.
And just like that: good feelings gone.
: