The annual fair has come to town!
Imma gonna be all over some candy apple and cotton candy like no body's business.
S'sly, you will either applaud in admiration; or the resulting sugar coma may disgust you enough to throw up a little in your mouth.
And then Imma gonna ride the spinning monkey till my kids faces all start to blur and they can't decide whether to laugh their bellies sore.......or scream "
stop mom. Mommy make it stop! my tummy hurts.....
"
Oh, I love this ride. can't. get.enough
Sorry, puke appears to be a theme this week on the blog.
And no, I won't be bringing candles to the fair. they might burn the overstuffed prize Left Brain is gonna win for me in the shooting gallery. Because nothing says Big Love like knowing how to handle a big gun.
Er, something like that.
I may still be on an anniversary high.
Update:
So I started this post late last night and woke up this morning to Rain. As in downpour. For the past 24 hours.
Are you kidding me?
No rain for garden this year and it's dying. I didn't even bother buying flowers.
No rain for camping this year, which yes means we stayed dry, but had to endure a fire ban.
But the fair comes to town and suddenly I need to build an ark and collect all the animals by twos'?
(no, no, no bunnies....I said
TWO!
)
Agh.
Mother Nature - there's just no reasoning with you sometimes.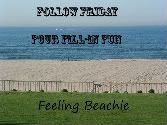 Each week,
Hilary
lists four statements with a blank for you to fill in on your own blogs. If you want to join the fun and come up with four fill in's of your own, please email them to her at feelingbeachie@gmail.com. You'll be added as co-host to the hop!
This week's co-host is Susi from
Boca Frau
(she came up with the last two statements). And do go visit her - she is awesome and I heart her. And not just because I covet her swimming pool and mom's perfect hair.
Help spread the word about this hop….
tweet,
FaceBook share
, and
add the linky
to your post…
This week's statements:
1. When I was little my mom
would let me spend most of the summer at my grandparents farm. Horses and hay and home-made bread, oh my!
Best.Memories.Ever.
2.
Caffeine
is my favourite condiment. Seriously, I put that sh@t on everything ;)
3. I don't like to celebrate
too strenuously anymore
because.....
well, let's just be honest: kids kill the buzz. And late nights are not conducive to early morning rising of the pitter-patter feet type.
And why, why, why for the love of all that is peaceful and quiet does every darn toy these days light up, flash and play music!!? Who started that.
Although, if you invite me to your kids' party - I'm totally bringing one as a gift.
What can I say. Misery loves company y'all.
4. My
kids toys
take(s) up more space
than any toy box can contain
and I can never
walk through my house without stepping on some errant piece of Lego (death trap) or little Barbie accessory.
Hilary - I WISH I had your shoe/closet problem!
What's your favourite ride or treat at the fair?