Quid pro quo
dear Followers.
or "
tit for tat
" if you will.
Essentially, I haven't been very good in this regard.
And manners matter people. Always.
So, if you will excuse me, I have to get down to the business of saying some
Thank You Kindly's
My cousin - no, not
that one in the kitchen
, the other one at
Tried, Tested and True Mommy
tagged me in a bloggy Q and A:
What is your favourite thing about being a stay-at home mom?
I would have to say the simple and obvious answer: I get to be here.
I saw all the firsts, all the significant moments, how they change from day to day, the daily discoveries they greet with awe and wonder. I didn't have to hear it second hand, and that is golden!
She also bestowed upon me the following Award:
I think I am supposed to tell you 10 things about me, but let's face it, this post will be long enough as it is, and who likes cold coffee? Meh. Let's round down shall we.....3 it is.
1. I used to work in a men's federal prison. True.
2. Cell searches are fun and interesting. False, and true.
3. Male guards run very, very fast when a female worker's Personal Alarm goes off. Very True. And so sorry about the false alarm boys. As you were.
Uh-Oh, Wait! Not so fast! The wonderful Susi at
Boca Frau
also passed the same award to me.
Another 3 it is.
4. This year will be Left Brain's and my 9th Anniversary. I remember when we used to dream of going to Australia for our 10th. Now we are pretty much just hoping for time to hit Tim's drive thru and drink some hot coffee.
5. I love coffee. My machine broke. Keurig, you have hurt my heart.
6. Anyone need some kcups?
The lovely Ann at
McGuffy's Reader
passed this award along to me, which also prompts for some random facts.
Are we sick of the random yet? Can you stand one more?
7. When I was 19, I kissed a magician from England on a park bench in front of my town's fountain one lovely moonlight night.
He's a famous travelling entertainer now.
And no, I don't want to tell you about "the rabbit". *side eye*
How ya doing?
Holding up okay?
Need a refill? It's okay, go ahead. I'll wait.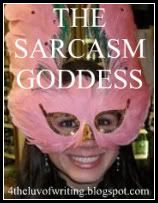 Ah, good you're back, because this next one really knows how to bring the hilarious. Every post is laugh out loud funny. And she draws too! I am unworthy, but I would like to think I have become more awesome simply from reading her blog, because she did give me this:
Another random fact: 8. Well, I don't believe I have ever crapped my pants. And if I had, there is nothing you could do to persuade me to attempt anal bleaching.
Go check out the fabulous
Sarcasm Goddess
- you'll understand soon enough.
And in lieu of passing along these tags or Awards, I will just say that if you have not yet discovered any of these wonderful ladies, you are really missing out on some inspiring fabulousness. So drop by and say, "
hello, that slacker- rule- breaker Rory sent me
."
Stay tuned for Part Two.
Yes..... I'll get around to it eventually.