The suitcases are bursting, the trailer is loaded, the coolers are properly cool...
...oh, and despite my best planning methods, or, because Mother Nature is a funny b*tch, this vacation will be sponsored by
Tampax
,
Always
and massive does of
Midol
*side eye*
*throat punch*
still,
We Are Off to the Wild Woods Yonder!
I know, I know.....not very safety minded; announcing our absence on the blog and all. But really, what do I care if someone breaks in while I am gone? I am fairly certain the rusted old Jetta in the driveway, the garage full of hand-me-down kids toys, and the rotting wood on the front porch clearly indicates that there is nothing of immense value to be had here!
Also, break into a cop's house? Um yeah, good luck with that.
So my journey into Nature and away from social media begins.
Soon.
Just one more tweet.
Honestly, one more. Then I'll go willingly.
Don't worry though.....I have ensured that there will be something here for you every couple of days!
I wouldn't want y'all to miss me too much :)
And go ahead and play the
Griswold theme
....you know ya wanna!
Holiday Road
by
TTW
Here are some of the fun memes that I normally participate in and will be missing next week.
Check them out if you never have visited!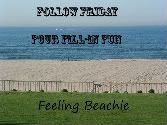 http://cathykennedystories.blogspot.ca/
See y'all real soon!