Happy Friday!
Hey, you know what's super awesome?
Being outside in 34 degrees C weather with a hangin heavy on my head humid ex of over 40 degrees, AND having a summer head cold.
Because ya know, breathing; it's over-rated.
And sitting on your front step panting like a big ole dog is also super Hawt!
I haven't even worked out in days because I can't get enough air in my lungs to even blow out a candle.
(hey, no wisecracks peanut gallery)
But I am still here......and for that, I
rasp
breathe a big sigh of relief.
If you're feeling hot, HOT, or Hawt where ever you are right now: I hope you find some way to beat the heat.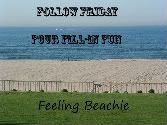 Each week,
Hilary
listing four statements with a blank for you to fill in on your own blogs. If you want to join the fun and come up with four fill in's of your own, please email them to her at feelingbeachie@gmail.com.
If I used, she will add you as co-host to the hop! This week's co-host is Janice from
Janice's Footsteps
(she came up with the last two statements).
Help me spread the word.... please
tweet,
FaceBook share
, and
add the linky
to your post…
This week's statements:
1. I always wear underwear. Hey, it's not always a given with some people. especially in the short shorts season. *eye roll*
2. I have had a lot of drugs. Ahem, choke, sputter......of the OTC cough medicine variety. My apologies for any Neo Citron induced ramblings lately.
3. Public speaking makes me - meh, nothing. doesn't bother me at all. I've been onstage before. I was valedictorian of my class. I've spoken in front of my church congregation.
4. My car always has wipes because 3 dirty, sticky children insist in climbing into it with me whenever I try to escape the madness leave the house.
That's a wrap folks.
The kids have grown bored with the blow up pool and slip'n'slide and there are strange noises and crashes coming from the garage. I swear I saw a chipmunk run out and hide under the minivan, and I am willing to bet there's a least 1 naked child in there.
And what the heck is in this Neo Citron stuff anyways? I can type like super lightning speed, but I think I may actually be asleep and this all some really strange dream.
I really gotta lay off the
Wilfred
viewings. Or the cough meds.
Probably both.
Woof, woof readers. Stay cool.