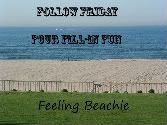 Never thought I'd be offering up notes of praise for this here ancient laptop.
This same laptop I was cursing a year ago. My sailor-speak tendency was so bad, Left Brain bit the bullet and bought me a brand new spanking computer for my 40th birthday.
And now it sits on the desk gathering dust.
Worst case scenario we will need a new hard drive - which Dell will not charge us for. So I am thankful for small miracles.
Each week, Hilary lists four statements with blanks for you to fill in on your own blogs. If you want to join the fun and come up with four fill in's of your own, please email them to feelingbeachie@gmail.com. If used, you can be added as co-host to the hop! This week's co-host is Jen from
What Would Jen Do
– she came up with the last two statements.
Please help spread the word about this hop…. So, please
tweet,
FaceBook share
, and
add the linky
to your post…
1. I loved
to colour
as a kid and still do. It's very relaxing. There's so many colours in the rainbow ya know.
2. I drive
with the music on very loud
. At least when the kids aren't in the van. Isn't that a sight - 40 something lady driving old rusty minivan and belting out "
MmmBop
!"
3. I am currently reading
Extremely Loud and Incredibly Close
, by Jonathon Safran Foer. I am only a few chapters in, but I really enjoyed his
Everything is Illuminated
, so I am hoping this one is also good.
I also have the Nora Roberts
Chesapeake Bay Saga
on the go as well. Love her.
4. I wish I could instantly have a body just like:
I'd be quite happy with my very own body, prior to 3 kids
and 3 C sections and 1 abdominal separation. I really did have great abs once upon a time. But if I had to choose a celebrity I could instantly morph into - hands down Kate Winslet. I still want to look like a woman - not a waif. Or the toned athletic look of someone like Jessica Biel.
Have a great weekend!