It's Friday and the beautiful spring weather has held all week.
I be delirious.
I even raked the leaves off my garden. Whereupon (I am sure that's a word?!) we found a big fat worm! The kids love it and have named it "Pinky".
Pinky so cute
says Zoo Zoo. I had to bury the thing 4 inches down in the soil so she couldn't "love" it too much. Remind me to tell her the story about the rabbits one day.
Anyhoo, I normally wait until at least the middle of April to expose my garden. I couldn't resist when I saw hints of green peeking up through the decaying leaves. Did I mention I was delirious? I'm blaming it on Spring Fever.
Next thing you know, I'll be giving into their equally feverish demands to fill up the plastic pool, or go to the beach!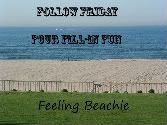 So, here's the deal, each week Hilary gives us four statements to complete. This week's co-host is Nani from
The Chronicles of Nani
. She came up with the last two statements. Complete yours, link up, and see what other's are saying. Spread the word.
1. I love
to blare music and dance around my kitchen
when I need a pick me up. Wait? Was that out loud? I mean coffee; I like to make a coffee. Definitely demands less coordination and much lower on the humiliation scale.
2. No matter how hard I try, I just
can't move fast in the morning
. There is nothing worse than the idea of leaping out of bed and hitting the ground running. I'm a lingerer. I like to linger in bed with that first cup of coffee and slowly awaken to the world around me. I consider my kids incredibly selfish that they don't understand this and demand things - like breakfast - upon waking. Left Brain on the other hand - well, he's a wise man.
3.
Cuddling for story time before bed with the kiddos
makes me feel all warm and fuzzy. For about 10 minutes. Then they start wiggling; pushing and shoving because they all want to touch me. Then normally there is crying. From me. S'sly kiddos, can I get through it just once without a heel to the nose, or a boob-grab?
4. I can't resist a sale on .......I feel this is probably a trick question. Not sure if Left Brain is lurking again and trying to trap a confession out of me.
So I'll go with the safe answer: nothing. I won't buy it just because it's on sale if it is not something I truly need.
You certainly won't find anything like discontinued make-up, lotions, bubble baths, or hair
dye
accessories behind my locked bathroom cupboard. Ssssh...It'll be our little secret.
Hope everyone has a beautiful warm, sunny and relaxing weekend. In anticipation, I have dragged my lawn chairs out of the shed in the hopes the children will play nicely in the backyard, while I devour my new Garden magazine. I'm not above bribing with Dairy Queen should it be necessary.
And I feel it will be.
NOTE to WordPress users:
I'd sure love to comment on your blog. Trust me, I have visited -- but I keep getting error messages - even when I sign into my own account like it nicely requests of me. Vexing. You all know how I hate to be vexed. Dear WP - stop messing with my happy bloggy homes.