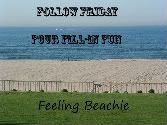 TGIF!
Actually, that means nothing to me. I'm a Stay At Home Mom....it's just another day really. All blurring into one never-ending, weary.... you get the point.
I need a Friday tradition for myself. Something to mark the end of the week and the beginning of R & R time.
Well, until I figure it out, visiting Hilary is not a bad way to start the weekend at all. If you want to join me, here's the deal:
Hilary gives you 4 blank statements to complete in a blog post. Then head over to the beach, link up and see how everyone else has answered the statements. It's great fun, so spread the word.
1. I don't understand
Racism
and probably never will. Seriously, basic anatomy people - we are the same! And furthermore.....how frickin dare you!
2. I prefer
rock and roll
to
bubble gum pop
.
So put another dime in the juke box baby!
3. My favorite smell is
when the lilacs are blooming
because
it means spring is here, and summer is not far behind
. Plus, they smell incredible. Much better than thawing dog poop.
4. I suspect my neighbors of
nothing at all.
Seriously, we are incredibly blessed to live in a great family neighbourhood.
Have a great weekend everyone!