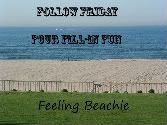 I'm late for my beach date!
Right to it then!
1. Nothing is better than
that first cup of hot coffee in the morning.
Or the 2nd, and the mid afternoon... you get the picture.
2. I
PIN
my
favourite craft, recipe, DIY pictures
in
my Pinterest Boards
, but never
have time to actually Do them.
Darn you Pinterest for creating yet more MommyFail.
3. Those
Barbie shoes
that are always
falling off
make me want to
scream, then grab my glue gun.
4. My favorite
time of the year
is when
the days start getting longer, and I can sit at night in my full bloomin garden and watch the sunset.
(with the scent of citronella and a fly swatter close at hand. I didn't say it was
perfect.)
Have a great weekend everyone!