Before I get to Hilary's statements for this week, I wanted to introduce everyone to a new blogger on the scene. Another cousin of mine just started her own blog. I have over 20 cousins: imagine if we ALL started blogging?
It would be lovely if you dropped by and said hello to Carley at
Tried, Tested and True Mommy
And you simply must check out the bug veggie post -- so cute and great idea!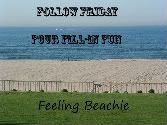 Each week, Hilary lists four statements with a blank for you to fill in on your own blogs. This week's co-host is Sarah from
the Mama Pirate.
1.
Patience
is not my strongest virtue. In fact, not even close.
2.
Coffee
is my favorite meal of the day. Yes, as a matter of fact, I do understand the question.
3.
A walk in the wood
s is my
favourite place to seek inspiration
. Nature: she gets me.
4. Whenever
the "Mine, Mine, MINE!"
happens, I always
say: you're both wrong! MINE!
(And then I take the toy away. see answer #1.)
Have a great weekend everyone!
P.S. Made new button because
sleep is over-rated
old one didn't go with new design. Old one will still lead you here, but if you want to....well, I don't mind being grabbed :)
.