We woke up this morning to light snow falling. Right now, it's just at the moment where everything is fresh and sparkling under a the white blanket. Winter Wonderland perfection; and a lovely morning walk with the girls.
Ah.....beautiful, yes?
Yep - but if it sticks around, I will be shovelling before the day is out. Seems like a good day to return to that beach I have been missing for a few weeks!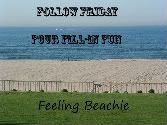 Each week, Hilary lists four statements with a blank for you to fill in on your own blogs. If you want to join the fun and come up with four fill in's of your own, please email them to her at feelingbeachie@gmail.com. If she uses them, you will be added as co-host to the hop! This week's co-host is Susi from
Boca Frau
. She came up with the last two statements.
1. I can't believe
my son has come home from school and asked the inevitable Santa question.
You know the one. He is 7 now, I should have expected, but I still wasn't quite prepared. For now, he has chosen to scoff at the older child (gggggrrrrr! who is your mother!?) who thought is was his place to enlighten my child as to the holiday truth. Whew.....saved for a few weeks more I expect.
2.
Winter Wonderland
is my favourite Christmas Song. Hymns are in a different category, in which case I would pick,
What Child Is This?
(or my toddler's version of "
I'll play in a in Mandger
")
3. If I don't have my
2nd cup of coffee by 10
in the morning, I cannot make it through the day. Okay fine, sometimes 3rd. In my defense, they are usually either lost due to my scurrying about to get 3 children ready, or go cold before I can drink them. I have given up the dream of any kind of "me" time, other than a fresh, hot cup.
4. I love my
children
dearly but wish
they would stop leaving their crap All. Over. The. House!
Seriously, I need to just carry a basket around with me to collect all the Barbie shoes, lost socks, puzzle pieces, hair barrettes, dolls, crayons, sippy cups, Polly Pockets, Mini Barbies, Lego galore, McDonald's toys, and even discarded food.
Note to Left Brain: I love you dearly too, but it would be MOST helpful if you also noticed some of this stuff. Or that I never travel anywhere in the house empty-handed. It is really becoming burdensome. I am outnumbered by children and clutter.
All I want for Christmas
I would
be really great
it if you could please help spread the word about this hop…. So, please
tweet,
FaceBook share
, and
add the linky
to your post. It is a lot of fun to see others answers each week.
Come on to the beach!
Have a great weekend everyone!
P.S. I have chosen a winner for the
MyMemories Scrapbook Software
, and they have been notified. I am just waiting for my representative to reply back, and then I will announce via post.